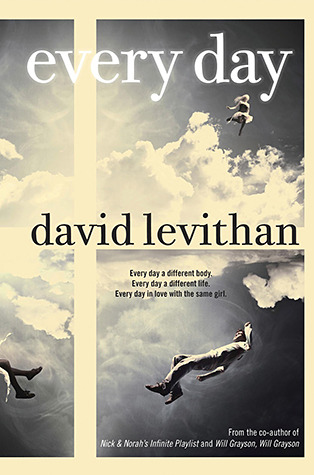 I read another book! I seem to be devouring ebooks lately, and that's probably because I have one novel and a couple of plays left on me until I go back home. And well, my short story collections which are not devour-able, per se.
If you know me, you know I don't dip into popular YA often. Nonetheless, Everyday has been on my radar for a little bit over year now. Its idea –a person who moves to a new body every day– is quite fresh and I wondered how it'd work. What I didn't know is that the person would fall in love –even though I should've seen it coming.
But here's the thing. It happens in the first chapter. I rolled my eyes as I turned the page that stated so, declaring instant true love at first sight, from the first day a theme. I went on anyway because I still thought the idea is brilliant and I liked the sound of the character/narrator. Here's the thing though… The mind of the person jumping around from body to another is always conscious of the fact that this body isn't "its" own. The person is a vague idea, with no identifiable gender as it inhabits bodies of males and females alike and is able to develop feelings for both. And this is where it all gets… well, preachy.
To be completely honest, some of the speculations about love and identity are great and ones that I highlighted. But then there's too many of them and at some point, I started to just sigh every time it went on one of the rants.
But… Some chapters were absolutely gold. Each chapter represents a new body and that gives us space to explore so many different feelings and views and personalities. Two of my favourites were the body of a suicidal girl and a fat boy.
The main reasons any stars were given for this book was the ending which I quite liked. I thought that it's one of the few right things our narrator gets to do to fix all of the havoc he's wrecked for the sake of love. It wasn't too cheesy, it wasn't too lovey-dovey. It was good!
To end this on a "nice note", I'd like to state out that I think David Levithan is one of the more talented YA authors. This is the second book I read for him –the first being the Lover's Dictionary which I thought was great. My only problem with him is that he does get a bit too preachy which bothers me a little –seriously dude, go write a kickarse essay collection or start a blog or something.
So there. I read another YA book. I even bought an e-book edition of Her Fearful Symmetry today –that's YA, no? Let's see where that one will go.
For now, I shall step away from this computer and go to start packing. Happy reading, y'all!
You can find me on: